Near Malpas, Cheshire. SY14 8HN
Sorry but the April fair is now cancelled. Please pass on the news
CANCELLED Sunday 26th April 2020 CANCELLED
Sunday 5th July 2020
Times: 10am - 5pm
Entry to gardens, nature trails and plant fair: £4.00 (less than half std price) Children £2.00, Under 5's free
Free Parking
Dogs on leads welcome
We are really thrilled to be able to return to Cholmondeley Castle in tranquil rural Cheshire for what deserves to be a firm date in all plant lovers' diaries. Plus we are holding our very successful summer plant fair here again.
The romantic castle - a product of the early 19th century - stands on a high rise above a lake. The castle is surrounded by sweeping lawns and a variety of mature trees, including cedars of Lebanon, oak, and chestnut.
The gardens surrounding the castle provide a lovely mix of colour and height, with intriguing walks around the lake. There is a temple water garden, rose garden, a variety of mixed borders. Plantings are planned to provide colour at all times of the year.
In late June visitors will be wowed by the newly replanted rose garden with over 350 roses and the new to 100 metre-long double herbaceous border.
There is a children's play area and picnic site.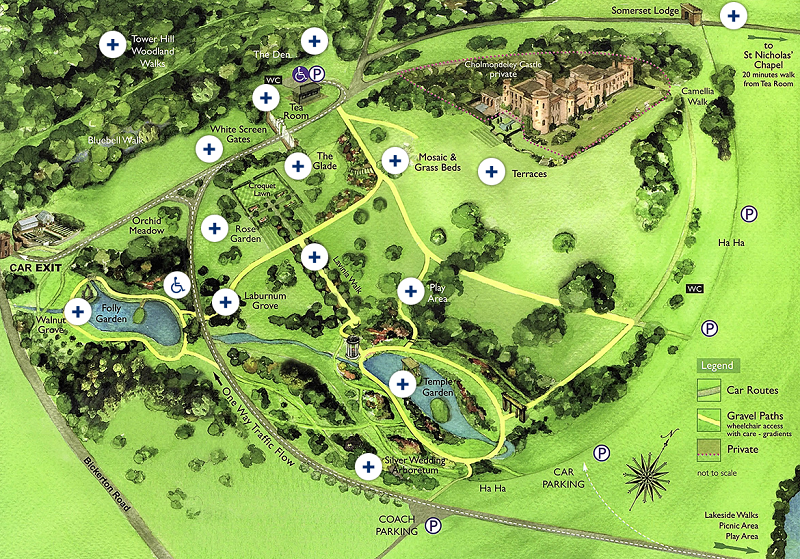 Click here for an interactive map of the garden
Tea rooms open for coffee, light lunches, home made teas, ice creams and snacks
Short YouTube video of the gardens from the air: click here
Articles by and about Cholmondeley Castle Gardens:
The Lady Lavinia Walk (from our 2018 newsletter)
Revolution or Evolution? (from our 2017 newsletter)
Buried Treasure (from our 2016 newsletter)
Thinking Ahead (from our 2015 newsletter)
Time to Polish the Silver (from our 2014 newsletter)
Nurseries coming in April:
Nurseries coming in July:
Alluring Plants from Shropshire: Nectar rich plants for bees and butterflies NEW TO EVENT
Artisan Plant Supports from Staffordshire: Hand crafted iron garden plant supports
Ashdale Nursery from Nottinghamshire: Hardy Cottage Garden Plants NEW TO EVENT
ChickenStreet from Shropshire: grasses and herbaceous perennials for naturalistic plantings
Conquest Plants Nursery from Cheshire: Variegated and coloured foliage hardy plants
CraftyPlants from Manchester: Tillandsia (airplants), bromeliads, tropical, sub-tropical, cacti and succulents
Green's Leaves from Gloucestershire: shrubs, perennials, grasses, foliage plants, southern hemisphere plants
Hall Farm Nursery from Shropshire: Wide range of perennials and herbs. RHS Gold medallists including Chelsea Gold
Jurassicplants Nurseries from Denbighshire: Starter plants of rare woody edibles and other hard to find trees and shrubs
Lyneal Mill Nursery from Shropshire: Cottage garden specialising in Aquilegia and Dahlias
Meadow View Plants from Lancashire: Thalictrums, Sanguisorba, Astrantia & members of the Apiacea family
Mynd Hardy Plants from Shropshire: Herbaceous perennials specialising in Hemerocallis and Penstemon
Packhorse Farm Nursery from Derbyshire: Acers, trees and shrubs RHS Gold medallist NEW TO EVENT
Pottertons Nursery from Lincolnshire: Extensive selection of Alpines, Dwarf Bulbs and Woodland Plants. RHS Gold medallists including Chelsea Gold
ShadyPlants.com from Gloucestershire: Ferns, Roscoeas, and a wide range of shade-loving perennials
SpecialPerennials from Cheshire: Herbaceous perennials with large ranges of helenium, phlox, geum, salvia and other wildlife-friendly flowers
The Gobbett Nursery from Worcestershire: Shrubs, perennials inc Iris, Cornus, Syringa. RHS medallists
Woodside Hardy Plants from Staffordshire: Hardy Plants
Venue Details:
Cholmondeley Castle
Malpas
Cheshire

website: www.cholmondeleycastle.com
Directions:
Located off the A49 Whitchurch/Tarporley Road, between Warrington and Whitchurch. The entrance to the gardens is off the A49 at the Cholmondeley Arms Pub crossroads post code SY14 8HN.
(Railway stations at Chester, Crewe and Whitchurch)