Magical Myrtles
by Dr Zoltán Hámori & Madeleine Hámori-Kovacs, Jurassicplants Nurseries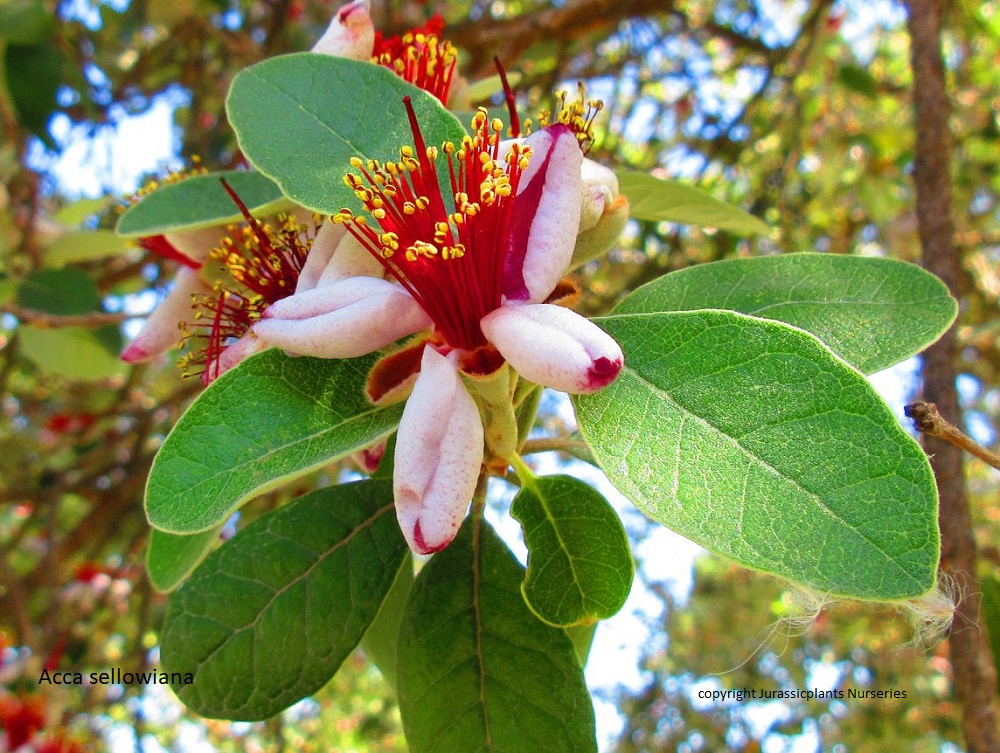 The Myrtle family (Myrtaceae) is one of the most diverse in the world of plants with some 6000 species distributed around the globe, giving to humanity some of the most delicious and interesting fruits. Most are native in tropical, subtropical and Mediterranean regions; many in South America. If you think these plants are too warm loving for the cool UK climate then think again!
Well, some of them will certainly need a conservatory or windowsill to properly overwinter, but quite a few will thrive planted in the garden all year round. Not only are the flowers exquisite, usually ornated by hundreds of vibrant stamen, ranging from white to red, but the evergreen foliage can be very ornamental too, often with shiny glossy leaves, with a size ranging from half a centimetre to several inches.
The variety of the fruit is also remarkable; their shape and size are so variable, just like the colour of the skin and flesh. Taste ranges from peppery to a sweet honey flavour and they usually start to fruit from a young age of 1 or 2 years.
All in all, an extremely versatile, but often overlooked family which could easily be a focal point in the lawn, on the patio in a large pot, or even as a houseplant, many thrive in shadier conditions.
Let's now have a look at our largest selection of the most rewarding and versatile exotic species of the Myrtle family.
Myrtus communis - Myrtle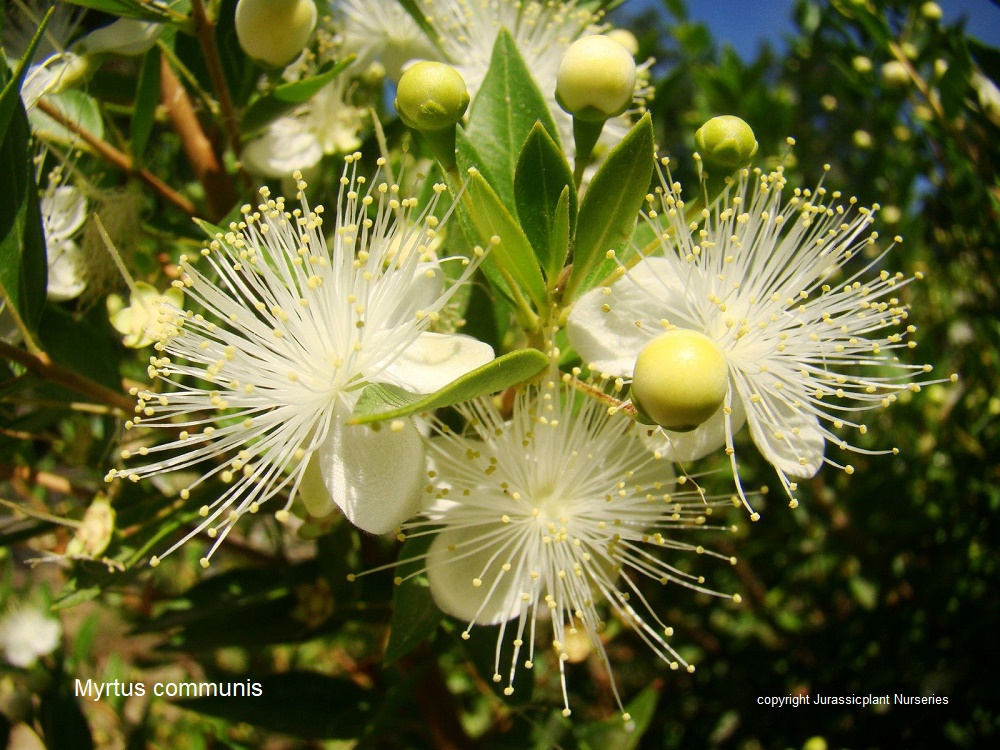 Myrtus communis is a prestigious, AGM (Award of Garden Merit) evergreen shrub with an exotic effect, producing masses of white, fluffy flowers which cover its arched branches in the spring. Dark magenta, elongated berries full of herbal, resinous flavour appear in the autumn. The fruits can be used similarly to that of the juniper berry to spice various foods, jellies, and drinks. The Common Myrtle can make a splendid low hedge and will grow very well even when placed in a pot or planter (if positioned in full sun) with an ultimate height of 1m / 3ft 3in. It tolerates some maritime exposure and prefers full sun.
Luma apiculata – Chilean Myrtle
This ornamental shrub or tree produces an abundance of soft, black, aromatic berries which have a special hint of spice; the perfect addition to make your very own tangy, bittersweet Sardinian myrtle liqueur – Mirto Rosso. Luma is an attractive, large evergreen with small glossy leaves. Masses of pretty, pure white flowers are produced in mid-summer and have a beautiful peach like scent. The older flowers are the most extraordinary looking with long, curling stamens, attracting the bees and butterflies. Older plants reveal a unique, orange, exfoliating bark. The cinnamon branches are sculptural and contrast beautifully against its dark green leaves. Chilean Myrtle looks great planted in the ground, placed in the conservatory or it can make a stunning patio plant.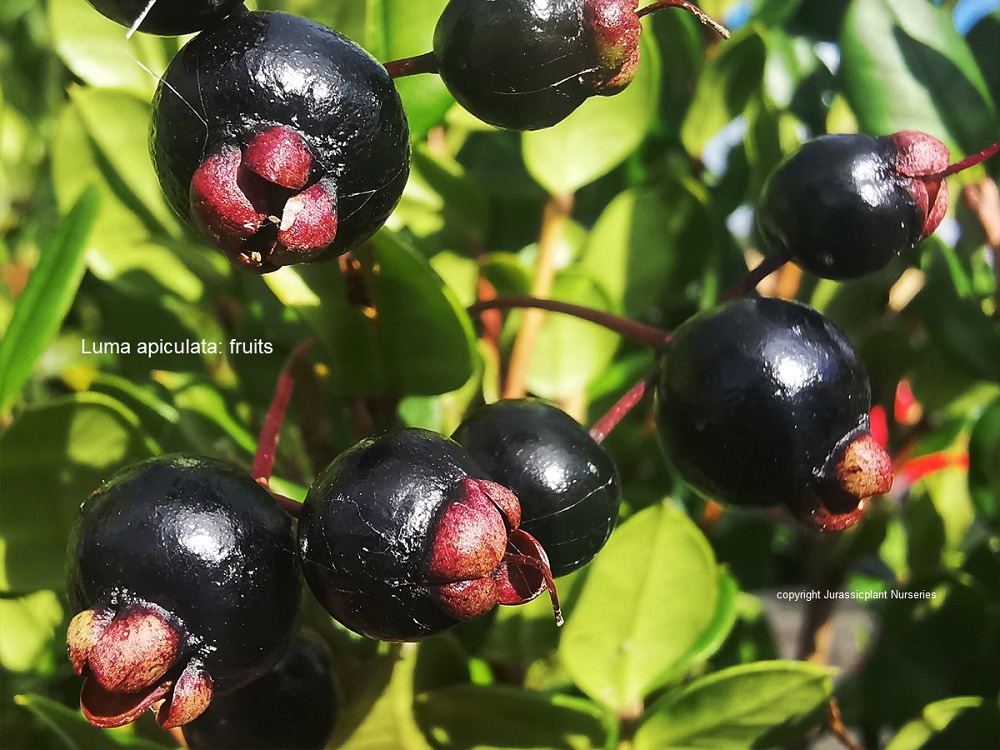 Lophomyrtus obcordata – Rohutu
A densely branched, elegant, dwarf like shrub from Australia. It has decorative, green- yellow, purple foliage with tiny leaves all year round. During the summer, 1cm wide myrtle like, fragrant, white flowers bloom. Later in the year, Lophomyrtus produces edible black berries. Hardy to temperatures as low as -10°C.
Blepharocalyx cruckshanskii – Heaven Scent, Temu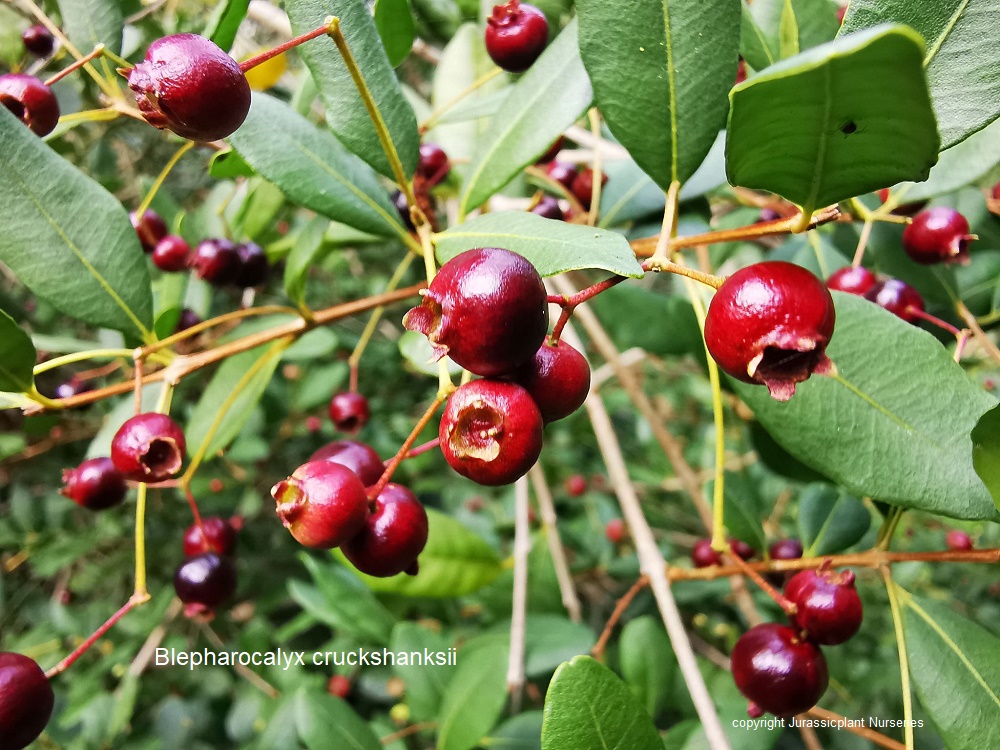 A highly fragrant, flowering, evergreen shrub that prefers a shady, moist spot. It will give you an unforgettable sight with thousands of white, myrtle like flowers opening in the summer. Dark brown to black, edible berries appear which give the plant a showy, ornamental look until early winter. The fruits taste similar to the Luma's. It has an almost arching habit due to the branches being pulled downwards under the weight of its foliage, flowers, and fruits. Orange, peeling bark is also a feature of the species. For optimum growth, the Heaven Scent is best to be positioned where it will receive partial shade, full shade. It can withstand temperatures down to -5°C.
Ugni molinae – Chilean Guava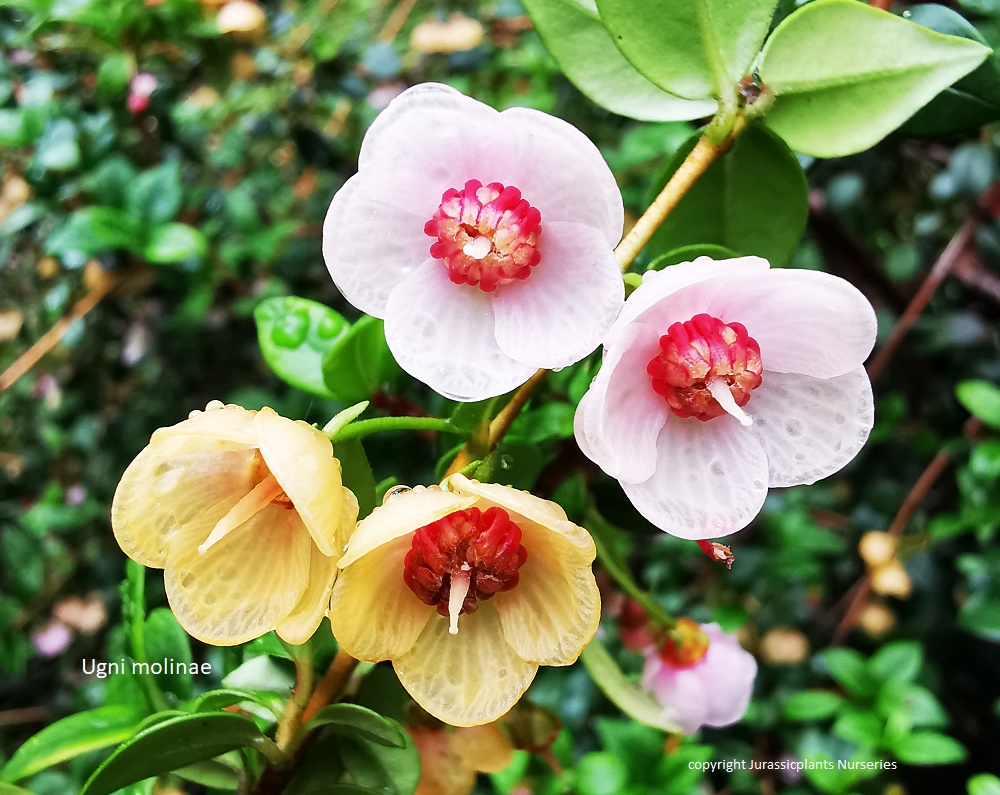 A little known Superfruit, the Chilean Guava is invaluable due to its late maturity meaning you can hand pick fruits, fresh from the plant almost all winter long. Just a 2ft / 60cm tall shrub can yield hundreds of fruits.
This is an evergreen shrub made up of tiny, dark green, simple leaves. Beautiful pink and yellow, bell-shaped flowers bloom from June, shortly followed by blackberry sized, red fruits. The fruits are not only full of wonderful strawberry and pineapple flavours, but they are also full of lycopene and vitamins. The berries are perfectly edible fresh or can be processed into jams, cakes, like muffins or eaten dried; a great alternative to cranberries or blueberries. In Australia and New Zealand it is grown and sold as Tazziberry and is quickly becoming popular as a speciality fruit.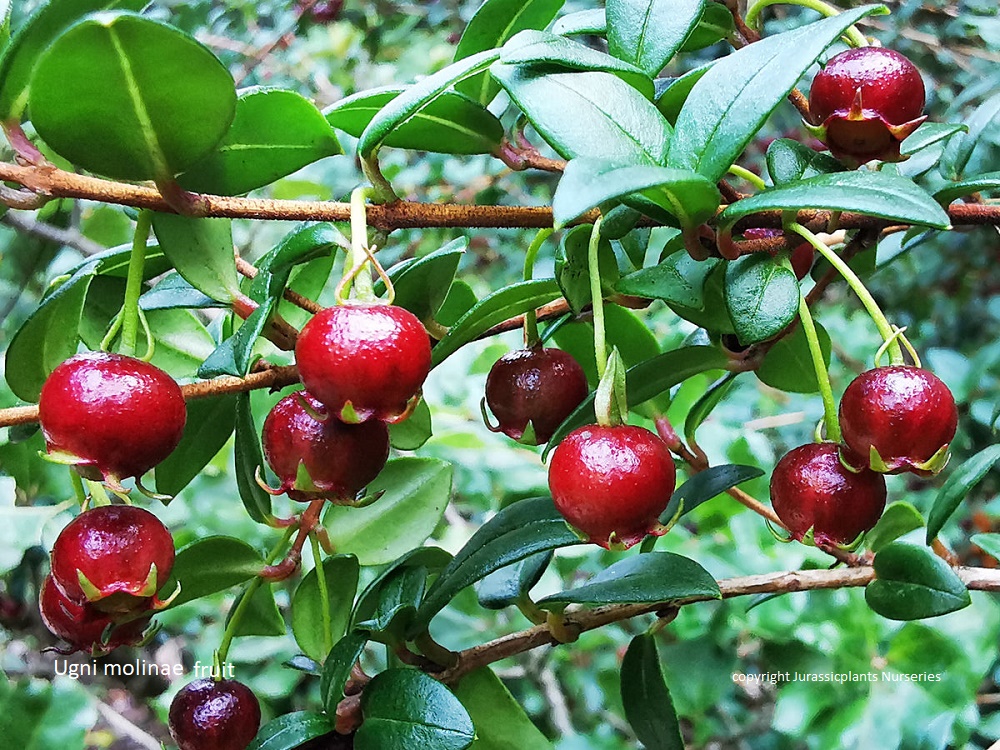 Did you know, this superfood was one of Queen Victoria's favourite berries; it was grown for her table in Cornwall.
Even less well known but also suitable to be grown outdoors in a sheltered, shadier spot are Ugni candollei (Buttery coloured fruit) and Ugni montana (Mexican Guava) with tiny black berries. Ugni is hardy to -5—10C and prefers partial shade or full shade.
Acca sellowiana – Pineapple Guava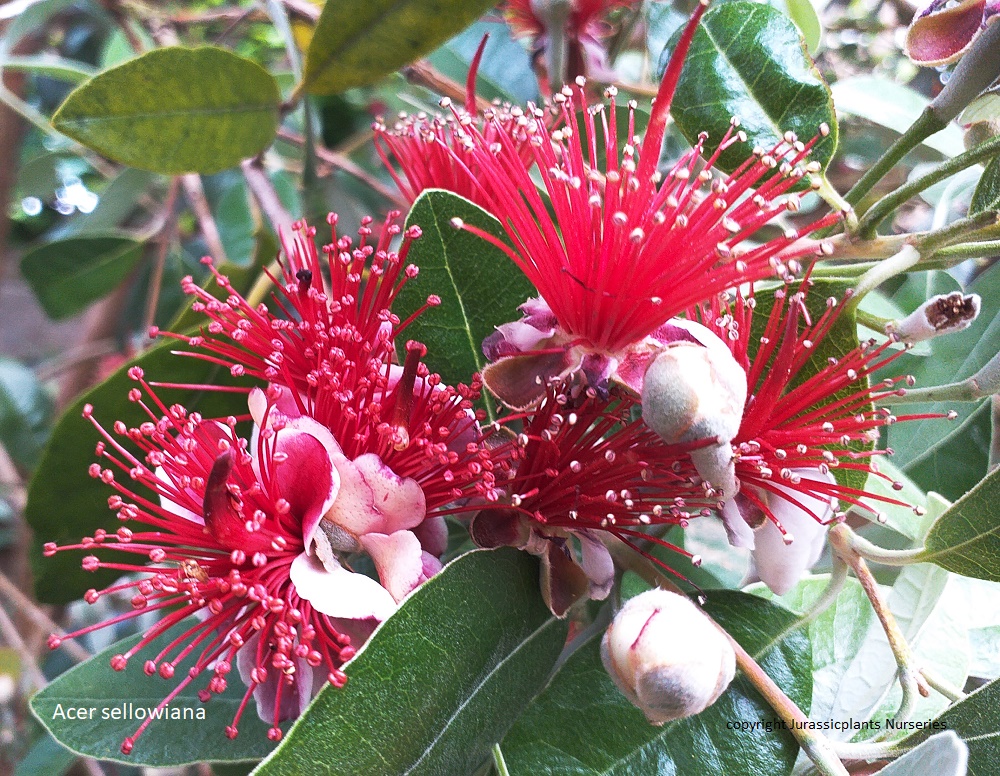 The Pineapple Guava is widely cultivated in subtropical regions and is a tolerant species that will survive light frosts. Acca sellowiana is an evergreen shrub or small tree with fairly large, pink flowers that have numerous decorative red anthers. The green coloured (even when ripe) fruits are egg sized and "apple"-like in appearance, having a sweet, juicy pulp around the seeds (sometimes the small fruits are eaten in full, after peeling the skin). Surprisingly rarely offered, an underrated plant which has a great ornamental value. Hardy to -10°C, it can reach a height of 2m / 6ft 6in, full sun exposure is best.
Acmena (Syzygium) smithii – Lilly Pilly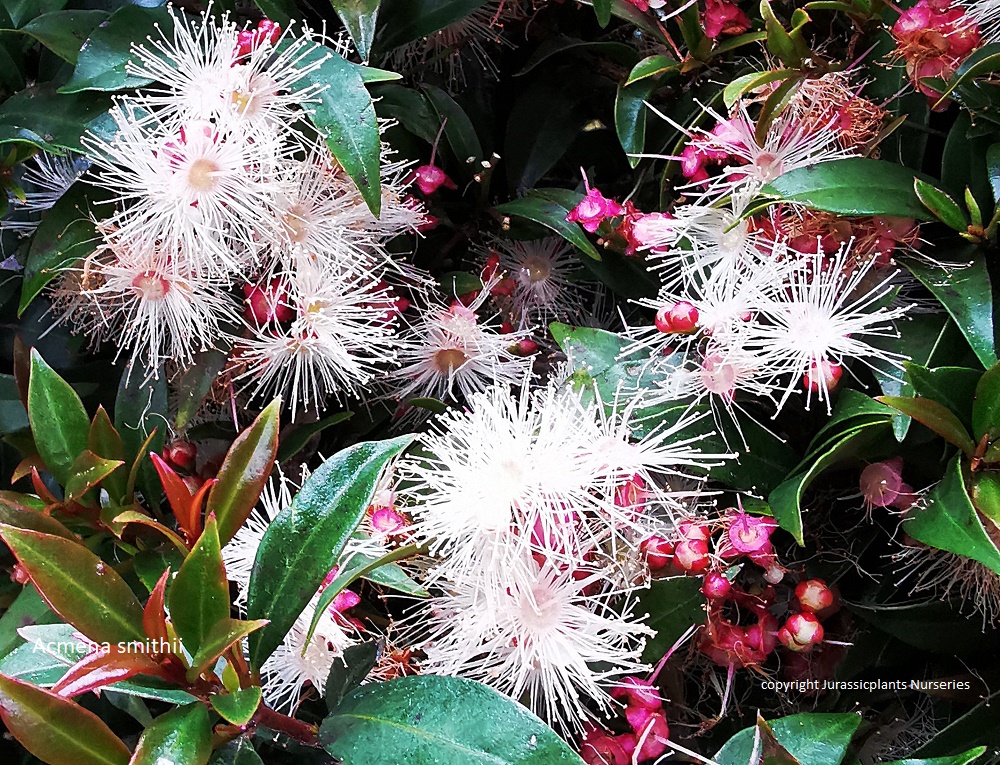 The Lilly Pilly does not only survive indoors, but it also thrives. It is a compact, small tree made up of a wonderful combination of dark green, maroon, and dark red waxy lanceolate leaves. It is a great option for those who have very little outdoor space, bringing the outdoors indoors.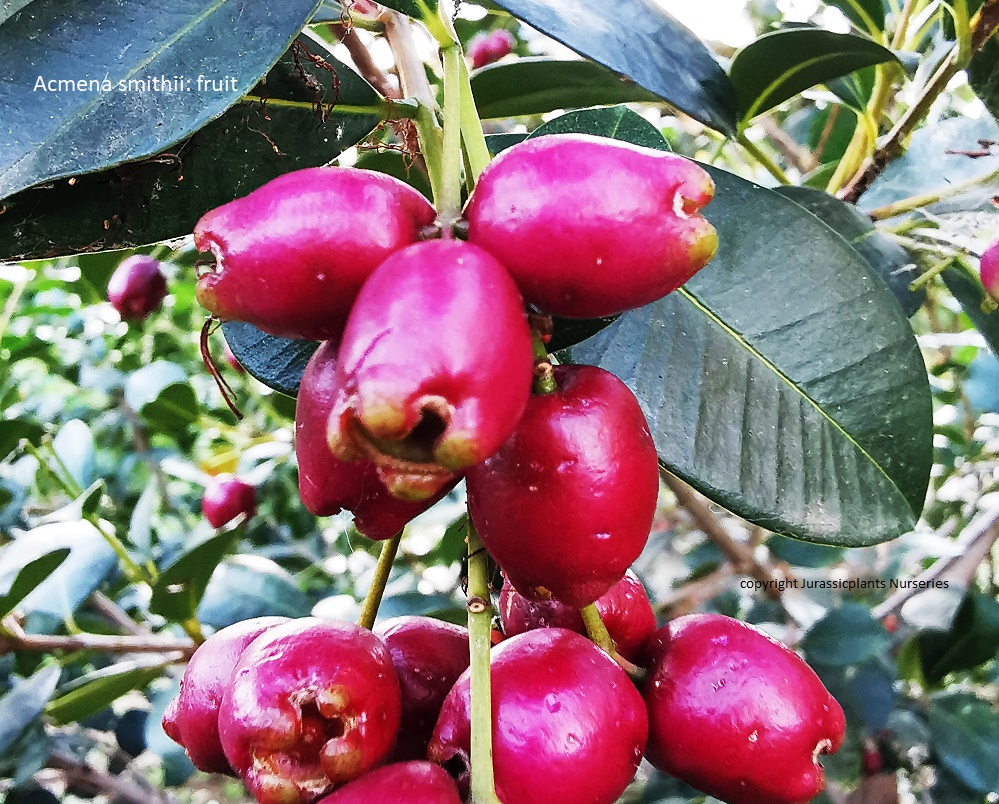 Acmena smithii is known to be ideal for screening, however it is also suitable to be grown in full shade, making it a perfect addition to be added to the living room, home office or bedroom. The small tree provides a fantastic array of colours that can be enjoyed all year round. From late spring, fragrant, white pom-pom flowers appear, followed by striking magenta-coloured fruits in the autumn which can be eaten straight from the plant, added to cakes, or used to make a jam.
Eugenia uniflora – Surinam Cherry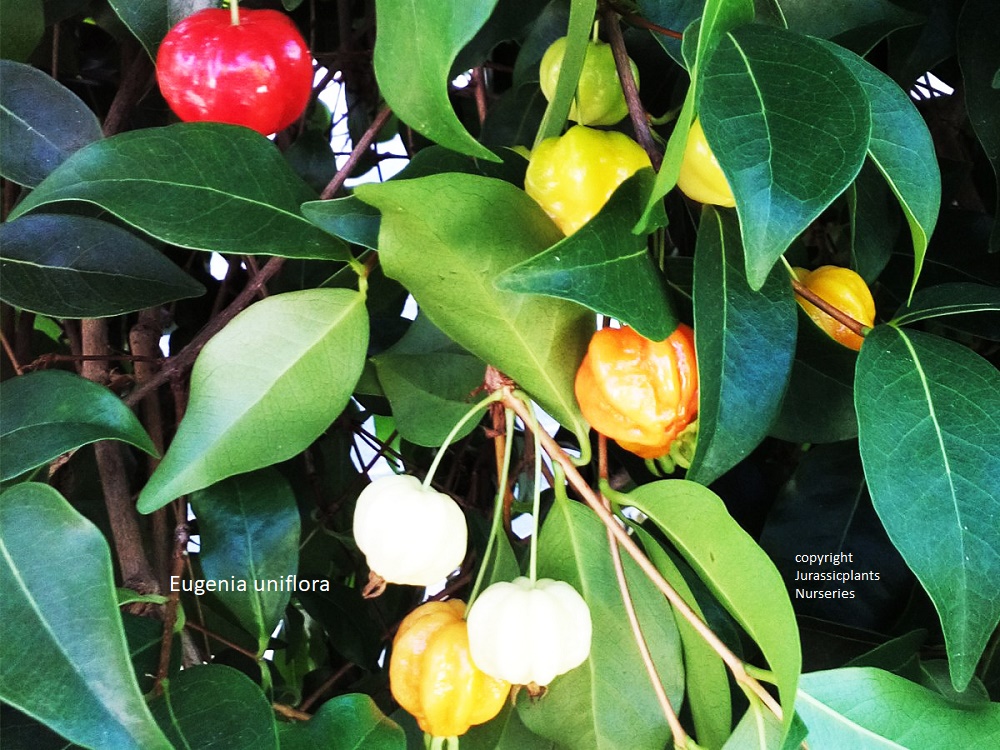 The Surinam Cherry originates from South America's east coast and is often used as a hedge or screen. The unique, lantern shaped, sweet, edible fruits hang from the branches like tiny decorations. Small, delicate, white flowers bloom several times per year. Great as a pot or patio plant. Eugenia uniflora is only hardy to 0°c, best to keep it in a conservatory during the colder months.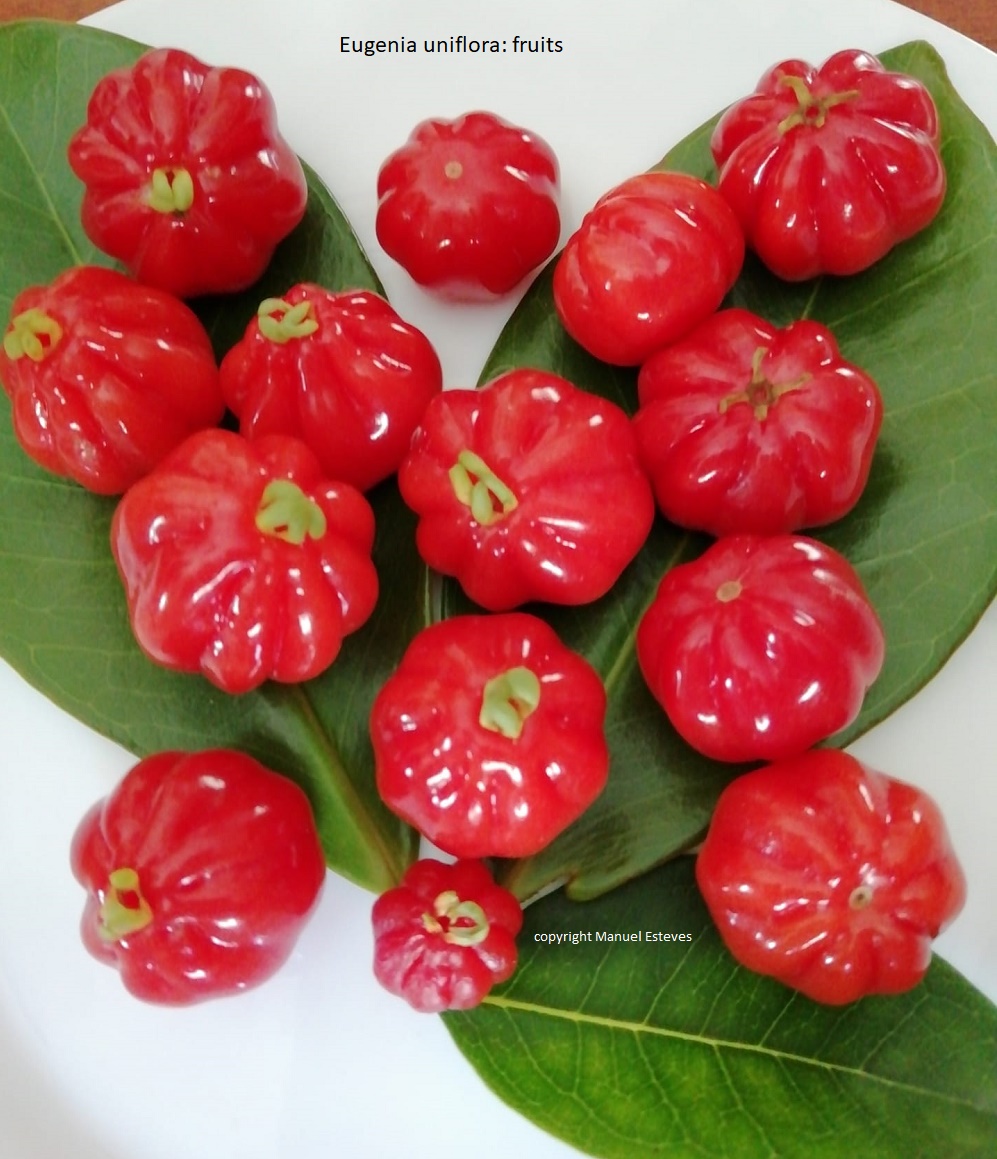 Psidium cattleianum – Strawberry Guava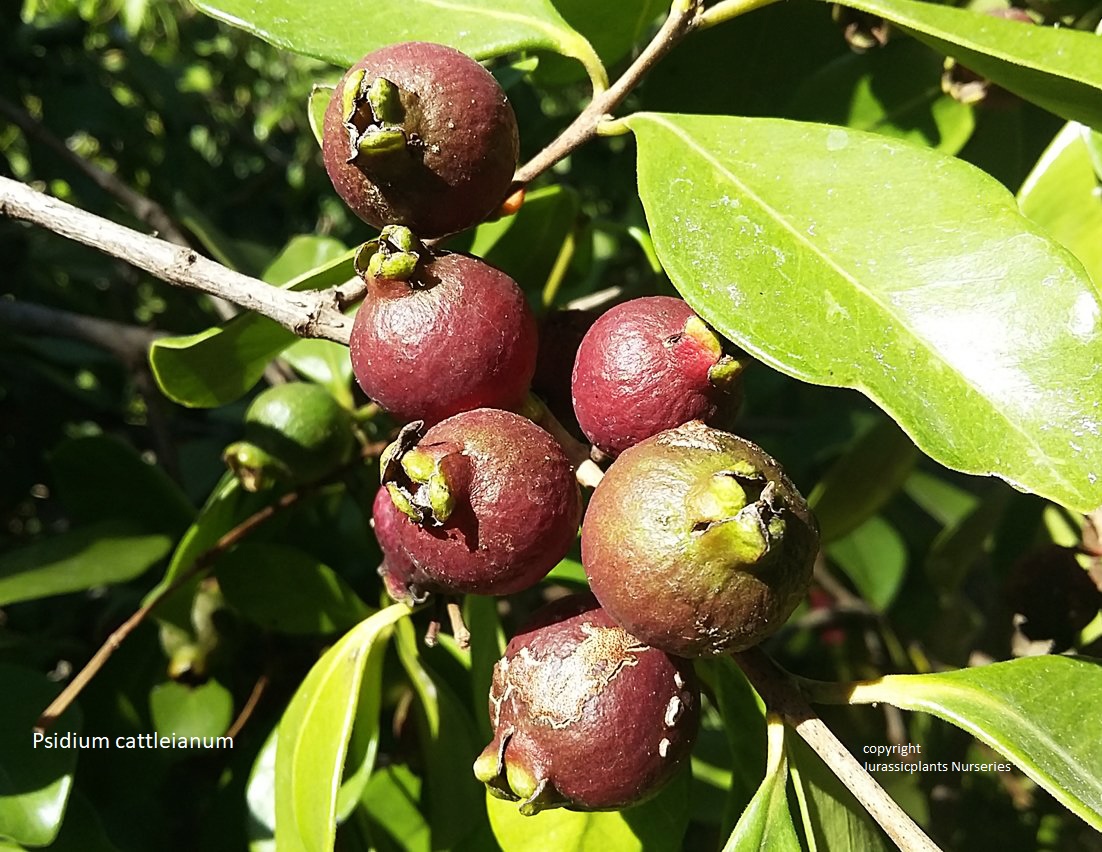 The Strawberry Guava is the most cold tolerant of all guavas, a lovely evergreen shrub with simple, glossy leaves. It produces strawberry sized fruits that turn purple when mature. They are sweet, aromatic (similar to the strawberry) and can be used in jellies, jams, custards, drinks etc. The species is named in honour of English horticulturist William Cattley and the name of the genus Psidium comes from the Latin 'psidion', or 'armlet'. The shrub is not fully hardy, so it is best to keep it in a pot, outside in the summer and protected from frosts harsher than -4°C.
©2022 Jurassicplants Nurseries (except the Eugenia fruits, copyright Manuel Esteves)
Zoltan and Madeleine grow and sell a large range of Myrtles and other rare and unsual ebibles and they are always happy to bring orders to a Plant Hunters' Fair
To place an order please:
ring: 07909 100 255
email: office@jurassicplants.co.uk
website: www.jurassicplants.co.uk
Jurassicplants Nurseries always attend lots of Plant Hunters Fairs
In 2022 they will be coming to:
Sun 20 March Ness Botanic Gardens
Sun 27 March Arley Hall and Gardens
Sat 2 April Sugnall Walled Garden
Sat 9 April Bodenham Arboretum
Fri 15 April Whittington Castle
Sun - Mon 17 - 18 April Dorothy Clive Garden
Sun 24 April Cholmondeley Castle
Sun - Mon 1 - 2 May Weston Park
Sun 29 May Pottertons Nursery and Garden
Wed 13 July Cholmondeley Castle
Sun 7 August Southwell Minster
Sat 13 August Carsington Water
Sun 14 August Capesthorne Hall
Sun - Mon 28 - 29 August Dorothy Clive Garden
Sun 4 September Ness Botanic Gardens