Cholmondeley Castle Gardens
Near Malpas, Cheshire. SY14 8ET
Sunday 28 April 2023
Times: 10am - 5pm
Admission: Garden and Plant Fair: £5.00 (special reduced price for this event)
Children 5-15 £2.50, Under 5s free
Parking: Free
Refreshments: The Cafe in the Gardens at Cholmondeley offers exceptional coffee and focuses on well-being. Many products are sourced locally, some organic and free range where possible. Picnics welcome.
The fair is on parkland grass and wheelchair accessible although uneven in places. Parking is adjacent to the fair.
Please see the venue website for garden accessibility details
Dogs on leads welcome in the fair and garden
We also have a summer plant fair here - see details
We are really thrilled to be able to return to Cholmondeley Castle in tranquil rural Cheshire for what promises to be a special date in plant lovers' diaries.
The romantic castle - a product of the early 19th century - stands on a high rise above a lake. The castle is surrounded by sweeping lawns and a variety of mature trees, including cedars of Lebanon, oak, and chestnut.
"It was a lovely day....Great to have the fairs back. Beautiful setting too, azaleas, magnolias and blue bells were prolific" - Karen on Facebook
The gardens surrounding the castle provide a lovely mix of colour and height, with intriguing walks around the lake. There is a temple water garden anda variety of mixed borders. Plantings are planned to provide colour at all times of the year.
In spring, visitors will be wowed by the flowering shrubs and massed plantings of bulbs
There is a large children's play area and picnic site.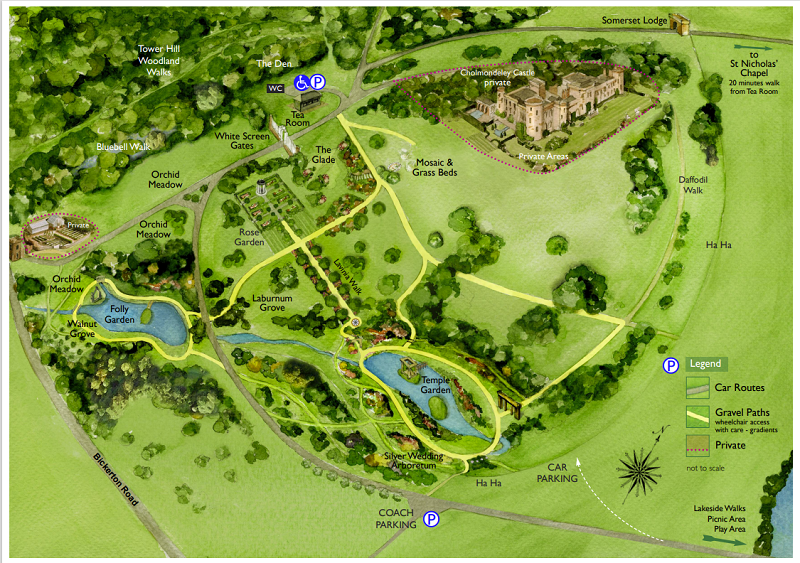 Line-up for Sun 28 April Cholmondeley Castle Gardens
A Love Blossoms Garden accessories, stakes, planters, garden wall decorations etc.
Alison Hayhurst Willow Willow basketry NEW
Artisan Plant Supports Hand made Plant Supports NEW
Bridge Farm Plants Interesting and unusual herbaceous perennials
ChickenStreet A good selection of grasses and herbaceous perennials for naturalistic plantings
Cliff Bank Nursery Grass, woodland plants, hardy annuals and other unusual plants
Conquest Plants Nursery Variegated and coloured foliage hardy plants
Cotswold Garden Flowers Unusual hardy and tender perennials NEW
DJA Plants Cactus, succulents, house and garden plants
Freckles & Flora Unusual hardy herbaceous perennials and choice annuals NEW
Green's Leaves Choice shrubs, perennials, grasses, foliage plants.
Hillview Hardy Plants Perennials and auriculas. National Collection Holders, RHS Gold Medalists NEW
Hooksgreen Herbs Flowering and foliage herbs. RHS Medalists
John Cullen Gardens Plants for pollinators, National Collection of Achillea, RHS Medalists NEW
Jurassicplants Nurseries Rare trees, shrubs, exotic fruits and living fossils. RHS Gold Medalists
Lyneal Mill Nursery Cottage garden specialising in Geum, Aquilegia and Primulas
Mayfields Plants Wide range of bee and butterfly-friendly cottage garden perennials.
Meadowmakers Wildflower and native tree plants and plugs
North Staffordshire Hostas National Collection of Hosta
Ox Eye Daisy Country style plants and quirky garden gifts
Penmere Plants Hardy, half-hardy and species Fuchsia.
Pottertons Nursery Alpines, Dwarf Bulbs and Woodland Plants RHS Gold Medalists
Prized Perennials Wide range of perennials
Rosemeade Nurseries Range of specialist trees, shrubs and herbaceous plants
Sophia Davenport Quality botanical cards, prints and notebooks, designed and produced in the UK
SpecialPerennials Perennials for a nature friendly garden.
Stonyford Cottage Nursery Moist and shade loving plants, some Exotics and Alpines including Sempervivums.
The Gobbett Nursery Shrubs, perennials inc Iris, Cornus, Syringa in season. RHS Medalists
Tissington Nursery Quality and choice perennials. RHS Gold Medalists
Venue Details:
Cholmondeley Castle
Malpas
Cheshire

website: www.cholmondeleycastle.com